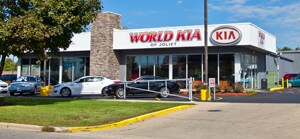 The auto industry is a competitive market, especially when it comes down to the dealership level. Nearly any major thoroughfare that you drive down, dealerships line the way. Today, there are dozens of automakers trying to get you to pull into their dealership.
If you have found yourself in the market to buy a new car and you've been searching online for dealerships, you've surely come across review sites that highlight the good and the bad of the store. Whether you read reviews on Google, Facebook, Yelp, or beyond, reviews are out there and those with good reviews are driving customers directly to their dealerships.
At World Kia Joliet, we have many Kia reviews in our short time since we opened in June 2015. We even have our own review site,
World Kia Reviews
, which is dedicated to reviews from our customers. Our Chicago Kia customers write reviews about their experience in both the sales department as well as the service department. The managers at World Kia Joliet read the reviews and we follow up appropriately to anyone that needs to be followed up with. It is important to us to serve our customers with the utmost respect while also providing our customers with excellent service from quality trained salespeople and mechanics.
For more information about World Kia Reviews, do a search online and see how we look. You'll be happy to see that World Kia Joliet has worked hard to maintain positive reviews from our customers. We are one of the top
Chicago Kia dealerships
in the area and are proud to serve our customers from all around the Chicago area!