Finance Your Service Work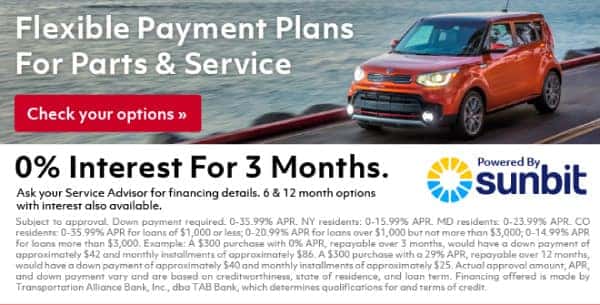 World Kia Joliet is happy to offer financing available for your next vehicle repair! We understand that when something goes wrong with your vehicle, it can be expensive to fix in a pinch. World Kia now offers a flexible payment plan for both parts and service make it easy for you to take care of your vehicle, especially when times are difficult.
Qualifying vehicle repairs include (but not limited to):
Engine Repair / Replacement
Brake Jobs
Radiator Fixes
A/C Repair
Catalytic Converter Replacement
Sensor Repair/Replacement
Suspension Work / Struts and Shocks
Starter Repair/Replacement
Camshaft
Thermostat Replacement
Easy Service Financing Available
Seeing if you qualify is easy. Available 0% interest for 3 months may be available to qualified customers. Speak with your service advisor for financing details on six and twelve month options with interest. All financing available is subject to approval.
Ready to get started? Schedule your service appointment today!